Edmonton Metropolitan Chamber Choir
Edmonton Metropolitan Chamber Choir was established in 2016 to meet the needs of (and requests from) singers who wanted to sing in a small ensemble, without the stress of auditioning.
The Chamber Choir is supported by Edmonton Metropolitan Chorus Society, and is organized on a project-by-project basis. Singers are welcome to join – to sing in specific projects that are of personal interest.
For the 2018-2019 season, we present three projects:
Project 1: Men's Voices, conducted by Graham Fast
Project 2: Women's Voices, conducted by Kimberley Denis
Project 3: Mixed-Voices, conducted by RJ Chambers
How to Join:
No auditions! Please register in advance by contacting David.Garber@EdMetroChorus.ca
Membership Fee: $100 per project; $50 per project for members of EdMetro CHORUS. 

Scaled – based on income/ability to pay.

ALL Membership Fees are tax-deductible. CRA #81064 7347 RR0001
---
---
Project 1: All Men Aloud… A Celebration of the Male Voice
Graham Fast, conductor; RJ Chambers, pianist
Men of Edmonton Metropolitan Chamber Choir
October 2018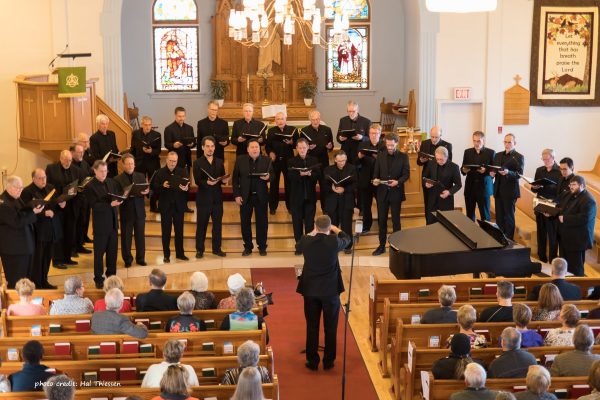 ---
---
Project 2: Songbirds… Music by Canadian Women
Kimberley Denis, conductor; Tova Olson, pianist/composer
Women of EdMetro Chamber Choir
February 2019
---
---
Project 3: Space Odyssey… 50th Anniv. of Lunar Landing
RJ Chambers, conductor; Rebecca Parsons, pianist
EdMetro Chamber Choir [Mixed-Voices]
Sunday, 9 June 2019, 3:00 pm
Holy Trinity Anglican Church, 10037 84 Ave NW, Edmonton
Rehearsals are held on Sundays from 2:00 – 4:30 pm at Strathearn United Church.
The first Rehearsal is on Sunday, April 28, 2019.
6 Rehearsals + Dress Rehearsal + Performance
Click on this link to download REH PERF Schedule 2018-2019
Repertoire. Each set begins with a piano solo, and a recited poem.
The Evening Sky
Starlight – Thomas LaVoy
Sure on This Shining Night – Samuel Barber
Twinkle, Twinkle, Little Star – Daniel Elder
The Moon
The Wisdom of the Moon  – Susan LaBarr
Address to the Moon – John Purifoy
Ballade to the Moon – Daniel Elder
Spaceflight
Sogno di Volare – Christopher Tin
High Flight – David Brunner
Flight – Daniel Elder
NO AUDITIONS, but please pre-register by contacting David.Garber@EdMetroChorus.ca