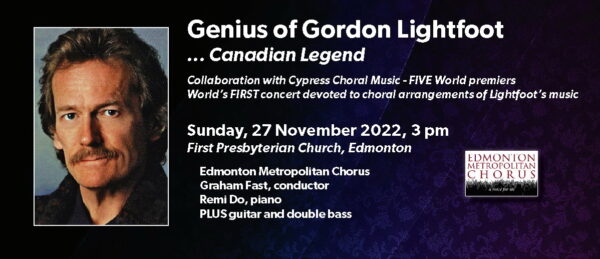 Genius of Gordon Lightfoot… Canadian Legend
Sunday, 27 November 2022, 3:00 pm
First Presbyterian Church, Edmonton
Edmonton Metropolitan Chorus
In collaboration with Cypress Choral Music
… World's FIRST choral concert entirely devoted to the music of Gordon Lightfoot
Graham Fast, Conductor; Remi Do, piano
Rhonda Lynn, violin; Kevin Smith & Linda Boire, guitar; Thom Golub, double bass
Vocal Coaches: Debbie Epp, Mireille Rijavec, Christian Maxfield, Josiah Maxfield
David Garber, Artistic Director
---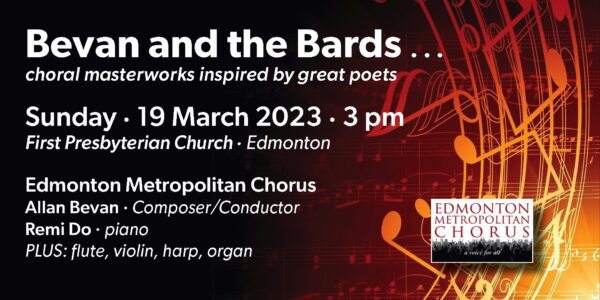 Bevan and the Bards
Sunday, 19 March 2023
First Presbyterian Church, Edmonton
Edmonton Metropolitan Chorus
Edmonton Metropolitan Chorus was honoured to present a concert devoted to the masterful compositions by Allan Bevan. 
Allan Bevan, Composer/Conductor
Remi Do, piano
Jessica Rodgers, flute; Frank Ho, violin; Keri Lynn Zwicker, harp; Marnie Giesbrecht, organ
Soloists: Jorgianne Talbot, Erica Slevin, Mireille Rijavec, Jane Berry
Christian Maxfield, Graham Fast
David Garber, Artistic Director
---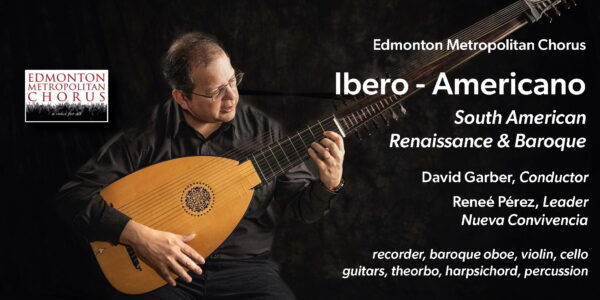 Ibero-Americano… South American Renaissance & Baroque
Sunday, 11 June 2023, 3:00 pm
First Presbyterian Church
Edmonton Metropolitan Chorus
In collaboration with Nueva Convivencia
The unique, vibrant sounds of South American renaissance and baroque,
influenced by Indigenous rhythms and dances, and performed on period-instruments.
David Garber, Conductor
Reneé Pérez, Leader, Nueva Convivencia
Soloists: Debbie Epp, Erica Slevin, Mireille Rijavec, Christian Maxfield, Graham Fast
Remi Do, Rehearsal Accompanist
Reneé Pérez, theorbo, baroque guitar
Valentina Benvenuti, baroque guitar
Stephanie Wong, baroque oboe, baroque recorder
Svitlana Remniakova, baroque violin
Ryan Hoffman, cello
Rodger Weir, baroque percussion
Sebastián Pérez, visual artist, projectionist
REPERTOIRE
La Bomba – Mateo Flecha el Viejo (b. 1481, Spain; d. 1553, Spain)
¡Ay Andar, a Tocar, a Cantar, a Bailar! – Juan de Araujo (b. 1646, Spain; d. 1712, Bolivia)
Un sarao de la chacona – Juan Arañés (b. ?, Spain; d. 1649, ?)
Hanacpachap Cussicuinin – Juan Pérez de Bocanegra (b. 1598, ?; d. 1645, Peru)
Lanchas Para Baila – Códice Martínez Compañón (published ca 1782, Peru)
A este Sol peregrino – Tomás de Torrejón y Velasco Sánchez (b. 1644, Spain; d. 1728, Peru)
Fuera, Fuera! Haganles Lugar! – Roque Jacinto Chavarría (b. 1688, Bolivia; d. 1719, Bolivia)
Cachua Serranita – Códice Martínez Compañón (published ca 1782, Peru)
---
---
Interested in singing with Edmonton Metropolitan Chorus?
No Auditions! Everyone can sing.  Visit our How to Join page
Singers should have previous singing/choral experience.