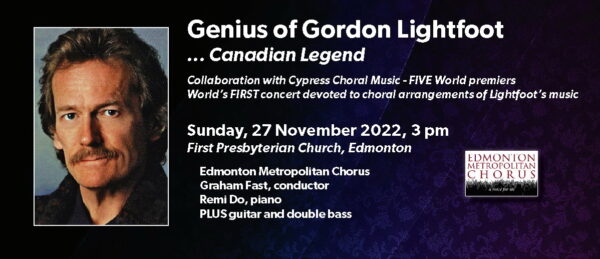 Genius of Gordon Lightfoot… Canadian Legend
Sunday, 27 November 2022, 3:00 pm
First Presbyterian Church, Edmonton
Edmonton Metropolitan Chorus
In collaboration with Cypress Choral Music
… World's FIRST choral concert entirely devoted to the music of Gordon Lightfoot
Graham Fast, Conductor
Remi Do, piano
Rhonda Lynn, violin; Kevin Smith & Linda Boire, guitar; Thom Golub, double bass
Vocal Coaches: Debbie Epp, Mireille Rijavec, Christian Maxfield, Josiah Maxfield
David Garber, Artistic Director
---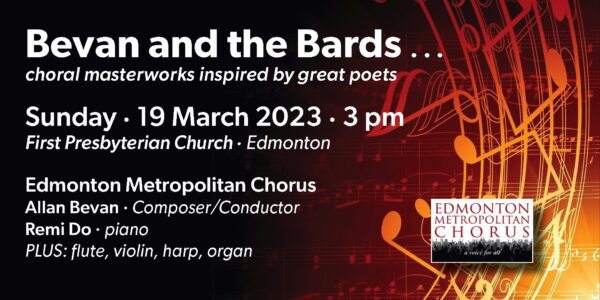 Bevan and the Bards
Sunday, 19 March 2023, 3 – 4 pm
First Presbyterian Church, Edmonton
Edmonton Metropolitan Chorus
Edmonton Metropolitan Chorus is honoured to present a concert devoted to the masterful compositions by Allan Bevan. PLUS… We are thrilled that Allan Bevan is conducting all of the rehearsals AND the performance.
Allan Bevan, Composer/Conductor
Remi Do, piano
Jessica Rodgers, flute; Frank Ho, violin; Keri Lynn Zwicker, harp; Marnie Giesbrecht, organ
Soloists: Jorgianne Talbot, Erica Slevin, Mireille Rijavec, Jane Berry
Christian Maxfield, Graham Fast
David Garber, Artistic Director
Tickets: $20 Advance: $25 Door; Children 12 and under FREE
Available NOW… Tix on the Square.ca  780.420.1757   Eventbrite.ca
---
---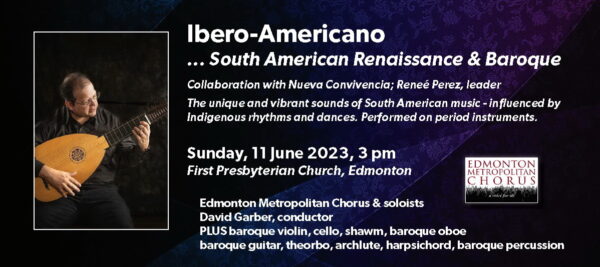 Ibero-Americano… South American Renaissance & Baroque
Sunday, 11 June 2023, 3:00 pm
First Presbyterian Church
Edmonton Metropolitan Chorus
In collaboration with Nueva Convivencia
… The unique, vibrant sounds of South American renaissance and baroque, influenced by Indigenous rhythms and dances, and performed on period-instruments.
David Garber, Conductor
Renee Perez, Leader, Nueva Convivencia
Remi Do, Rehearsal Accompanist
Soloists & Vocal Coaches: Debbie Epp, Mireille Rijavec, Christian Maxfield, Graham Fast
Renee Perez, theorbo/archlute/baroque guitar
Stephanie Wong, baroque oboe/harpsichord/shawm
Roger Weir, baroque percussion
Valentina Benvenuti, baroque guitar
Ryan Hoffman, cello
Svitlana Remniakova, baroque violin
Sebastian Perez, visual artist / projectionist
David Garber & Renee Perez, Co-artistic Directors
La Bomba – Mateo Flecha el Viejo (b. 1481, Spain; d. 1553, Spain)
¡Ay Andar, a Tocar, a Cantar, a Bailar! – Juan de Araujo (b. 1646, Spain; d. 1712, Bolivia)
Un sarao de la chacona – Juan Arañés (b. ?, Spain; d. 1649, ?)
Hanacpachap Cussicuinin – Juan Pérez de Bocanegra (b. 1598, ?; d. 1645, Peru)
Lanchas Para Baila – Códice Martínez Compañón (published ca 1782, Peru)
A este Sol peregrino – Tomás de Torrejón y Velasco Sánchez (b. 1644, Spain; d. 1728, Peru)
Fuera, Fuera! Haganles Lugar! – Roque Jacinto Chavarría (b. 1688, Bolivia; d. 1719, Bolivia)
Cachua Serranita – Códice Martínez Compañón (published ca 1782, Peru)
---
---
Interested in singing with Edmonton Metropolitan Chorus?
No Auditions! Everyone can sing.  Visit our How to Join page
Singers should have previous singing/choral experience.